It's the ultimate penny-wise, pound foolish decision: drive home to avoid paying a cab fare after a night of drinking.
You'll save $30, $40, or even $50. And you'll run the risk of a DUI conviction, which carries fearsome costs with it.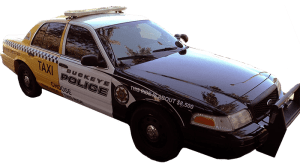 The Buckeye Arizona police decided to advertise this message to the city's drivers by recycling an old police cruiser. The car is now half-taxi, half police car, and the message painted on it asks drivers to choose: the taxi ride home will cost you $50, the police car about $8,500.
In Arizona as elsewhere, the costs of a DUI arrest and conviction mount up fast.
Bail: Could range from hundreds to thousands
Court Costs: Can exceed $1,000
Attorney Fees: Could range from hundreds to thousands
Fines: First offense $1,600
Alcohol Education Classes: $40 to several hundred
There is also the monthly fee for an ignition interlock, or car breathalyzer, which will need to be installed on the offender's vehicle. An ignition interlock is a device that prevents a vehicle from starting if the driver has been drinking. Arizona mandates ignition interlocks for all DUI offenses, including first offenses.
These are the immediate, calculable costs. If you lose your job, the financial effect can be overwhelming.
Everyone likes a bargain, but driving drunk is no way to save money. Whether or not you are in Buckeye, Arizona, and whether or not you've seen the cruiser parked in various places around the city, you should have gotten the message by now: designate a driver, or take a taxi. You'll be saving a lot more than just money.