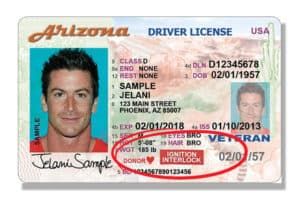 If you have an Arizona DUI, one of the requirements for having your driving privileges reinstated is getting an Arizona ignition interlock – a device which prevents the vehicle from starting if the driver has been drinking. You have 30 days to have the device installed.
The process for getting the device isn't hard. You need to go to a provider, have them put in the device, spend fifteen minutes or so making sure you can use it correctly, and then come back to have the device calibrated at regular intervals.
Yet some people try to evade the Arizona Ignition Interlock requirement. They go on driving, uninsured and in defiance of the law, rather than get their interlock installed.
It's a bad idea.
When your driving privileges are reinstated you are given a replacement driver's license which has the words "Ignition Interlock" on it. If you are stopped for any reason, the officer checking your license will see that you should have the device installed.
What happens then? It's a class 1 misdemeanor, punishable by license suspension and a possible additional year of ignition interlock requirement that you would have been able to avoid.
After a DUI, installing and using an ignition interlock is the path to driving privileges and eventually a clean record. The wise choice is to take that path, follow the law, and drive in Arizona legally and safely.