What's an ignition interlock device?
A small breath analyzer that requires a clean, alcohol-free breath sample by a driver in order to start a vehicle.
What's the purpose of the device?
Ignition interlocks are used across the nation as an alternative to license revocation.
When the law takes away individuals' licenses for a substantial period of time, life as they know it becomes difficult (i.e. supporting a job, family and normal lifestyle).
Ignition interlocks are an alternative to revocation. They provide those convicted of a DWI with the opportunity to prove they can be responsible drivers again.
That's why Monitech calls it the 'road to redemption.'
Which drivers are required to have an ignition interlock device by N.C. law?
Those convicted of a DWI type offense with a 0.15 or higher BAC
Those with a prior DWI conviction or record required to drive an ignition interlock-equipped vehicle
How long are individuals required to have an ignition interlock device?
Terms range from one to 10 years depending on the number of convictions.
Driving a vehicle without the required device is illegal and will result in a revocation of all rights to drive for at least one additional year.
What's the one thing an ignition interlock device is looking for?
Alcohol (also known as ethanol)
What's required to start a car with an ignition interlock device?
A clean, alcohol free breath sample.
What steps are involved in the process?
A unique PIN to ensure that only the authorized driver is activating the test
A clean, alcohol-free breath sample
The driver must blow and hum continuously for eight seconds.
After a completed and successful breath test, the driver can start the vehicle.
What happens if the device detects alcohol?
If the device records a FAIL, a noncompliance report is sent to the DMV.
Can anything other than alcohol (ethanol) set off the device?
A FAIL can occur due to mouth contaminants.
What are examples of mouth contaminants?
Some foods and drinks other than beer, wine and liquor include alcohol type ingredients.
What should you do if your device detects a mouth contaminant?
If a driver consumes a mouth contaminant before activating the device, it will result in a WARN or FAIL.
The driver should wait five minutes, rinse thoroughly with water and retest.
By that time, any contaminant should have dissipated.
A second test will represent your accurate BAC.
What does the Monitech device look like?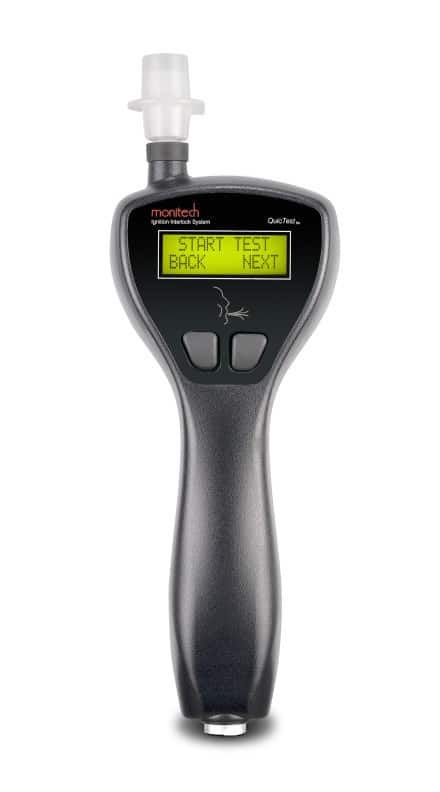 How do I get more information about ignition interlock devices?
Visit: https://monitechnc.com/faqs/