If you have a drop of Irish blood – or even if you don't – you might be thinking of celebrating St. Patrick's Day with friends next Tuesday. That's fine, but statistics show that DUI arrests and crashes go up on this holiday, so it's important that you plan ahead.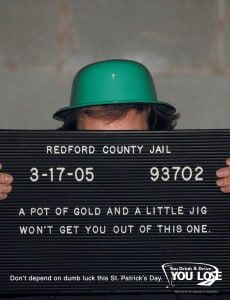 If you're going to be celebrating St. Patrick's Day next week, we can boil things down to four choices:
Designate a driver
Be a designated driver
Take a taxi, rideshare or public transit
Arrange for a friend to pick you up
Let's say you elect choice number 1. Then TODAY is the day to act. Make some calls or send some texts, and sound out your friends on who would be willing to forego drinks Tuesday evening. Perhaps whoever was most in need of a DD on New Year's could return the favor tomorrow. Or else, start quickly expanding your circle of friends to teetotalers. Some of them are quite interesting, really.
Most major communities have services which help ferry people home on holidays. Here's a list of such services for the whole of the US.
Some other reminders:
Don't let your friends drive drunk either – help them get a ride
Eat something. That will slow the effects of the alcohol (but you'll still need a driver!)
As far as staying safe on St. Patrick's Day is concerned, the luck of the Irish has nothing to do with it. You need to plan. But the good news is, drunk driving is 100% preventable.
Now pick up that phone. You've got six days.