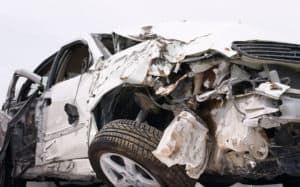 2016 has gotten some bad press, for good reasons. Celebrity deaths, Zika, political upheavals, clowns… all in all, we preferred 2015, and most other years.
One statistic that marks the year as a sad one was motor vehicle deaths – 2016 was probably the deadliest year since 2007, with around 40,000 road deaths. Which doesn't really make sense: cars and trucks are getting safer, and safety laws and regulations are getting stronger. Who's doing all this killing?
The answer is that people are. Because unlike cars, people are not getting safer. In fact, a National Safety Council survey showed that people are comfortable speeding, talking on cellphones, texting, and even driving while impaired. Driver's aren't even wearing seat belts often enough.
The reason, according to the NSC, is complacency. After generations of declining road deaths, people seem to be unaware that their behavior is capable of reversing such a longtime trend. But the arrival of a new danger – distraction in the form of devices – along with a general relaxation in vigilance because airbags and ABS have helped to lessen the carnage on the roads, have raised the highway death toll. It's up 15 percent from two years ago.
The NSC has some recommendations to reverse this trend – if it is indeed a trend – and set the country back on a course toward the organization's goal of zero road deaths:
Ignition interlocks for convicted drunk drivers. This should be a no-brainer, as states that have implemented an all-offender ignition interlock law have seen downturns in repeat drunk driving offenses and consequent road deaths
Automated systems to catch speeders. They work, though they are controversial here and in many countries.
Laws banning all cell phone use while driving.
Upgrade seat belt laws. Why is not wearing seat belts still a thing?
The organization also recommends better licensing systems and more speedy adoption of life-saving road technologies.
The National Safety Council are no newbies at this. A non-governmental nonprofit public service organization, they've been monitoring traffic fatalities since the Model T was the best-selling car in the US. And their only agenda is to save lives, in this case the lives of motorists, their passengers, and pedestrians.
For that reason, their recommendations are worth acting on. We're already a quarter into 2017. It would help if, at the end of the year, we could get some good news for a change.