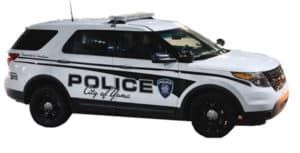 Cinco de Mayo is a holiday that has made a big impression on the US. Just as on St. Patrick's Day the joys of being Irish are celebrated by people whose ancestors hailed from Oslo and Bangalore, in Yuma Cinco de Mayo given the full treatment by all who like a good party, regardless of their connection to Mexico. A good many of the revelers aren't even aware of the holiday's history, but that doesn't matter – it's a good excuse to drink.
The City of Yuma Police Department is aware of the attraction of Cinco de Mayo weekend. That's why their impaired driving detail will begin on the day before the holiday – Friday, May 4 – and extend through Sunday the 6 of May.
Police will be out on the city streets looking for signs that drivers are under the influence of alcohol or drugs. If you don't want to get nabbed, there is an excellent strategy you can use:
Don't drink and drive
Plan your ride home – or a place to stay over – before you go out to party
If you're holding a Cinco de Mayo party, keep track of how much your guests drink. Make sure they aren't planning a drive home if they're impaired. Yes – it's your responsibility!
If you are the designated driver, do the right thing and do not drink at all
If you're out on the road, watch out for impaired drivers
If you see a drunk driver, call 911
All in all, not hard rules to follow. But chances are someone will break them, and we'll be seeing their names and faces in the news. If you'd prefer not to be in that number, then please take care this Cinco de Mayo. And keep an eye out on the cuatro and the seis de Mayo as well. The police certainly will.