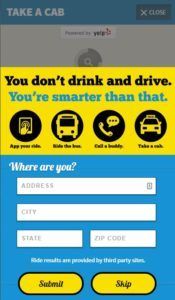 Had a few in a Charlotte tavern or a Raleigh bar? Having a wicked time at a party in Fayetteville? When it's time to head home, you know the drill: don't drink and drive – after all, you're smarter than that, aren't you? And if you need help getting home, the North Carolina Department of Transportation has launched a new website called Be Smarter Than That which has two main purposes: avoiding a North Carolina DWI and getting you home safe and sound.
When you hit the site, a screen pops up asking for your location. Then you can just hit an item from the menu options for getting home:
Call a cab
Phone a friend
Public transit
Walk
You can even post to Facebook or Twitter right from the site, to broadcast your need for transport to your wider network of buds.
The mobile-friendly site works well. When you hit "Call a Cab" a list of links to taxi companies comes up. Hit "Public Transit" and the nearest bus line is highlighted. You can even get a map to walk home by.
The site also offers info North Carolina DWI laws, links to various "Booze It and Lose It" PSAs, and links to rideshare and transit apps.
Why a site and not an app? These days responsive web design is better than ever, and websites can do the job of phone apps. If you think you'll be using Be Smarter Than That regularly, you'll want to put a shortcut to the site on your phone (you'll find how-to articles on the Internet if you need them).
All in all, NCDOT did a good job making the Be Smarter Than That site useful and easy to use. Though ease of use won't be an issue, given that the people using it are smart in the first place.