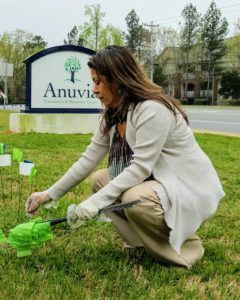 If you've driven past 100 Billingsley Road in Charlotte, North Carolina, you might have noticed flags on the lawn – thousands of them. Those flags are meant to be a reminder to every driver in Mecklenburg County not to drink and drive.
There are 3,053 flags, to mark the number of DWI charges filed in the county last year. A banner reads, "3,053 DWI charges were filed last year. Don't be the next number."
"Operation Flag: DWI Display" is on the grounds of Anuvia Prevention and Recovery Center, and is presented by them in honor of Alcohol Awareness Month. Anuvia's intention is to raise awareness of the sheer number of people who are arrested for driving while impaired in the county.
Alcohol Awareness Month is a yearly program sponsored by the National Council of Alcoholism and Drug Dependence. Its purpose is to increase public understanding of alcoholism and alcoholism-related issues, and to reduce the stigma attached to the problem so that people who suffer from the disease can get treatment and recover.
A DWI arrest is not necessarily the result of alcoholism, but it is the result of alcohol use. It can be a warning sign, and deserves to be treated as such. One of the reasons Mothers Against Drunk Driving (MADD) and other public safety advocates press for laws which mandate ignition interlocks for all DWI offenders is that the measure helps catch those who might be on track to serious alcohol problems and direct them to treatment early on. An ignition interlock, or car breathalyzer, prevents a vehicle from starting if the driver has been drinking.
The flags will be on display for the month of April, but the concerns that they symbolize go beyond April, and beyond Mecklenburg county. Find out more about Alcohol Awareness Month at the NCAAD site. Maybe next year drivers will be seeing those flags in your county. And maybe there will be fewer of them in coming years if their message gets through.